TEETH WHITENING
Your cosmetic Santa Rosa dentist, Robert Alavi, can easily enhance your smile with professional teeth whitening. Teeth whitening is a simple, non-invasive dental treatment that beautifies your smile by lightening the color of your natural teeth. It works by carbamide peroxide chemically breaking down organic stains deep in enamel into less pigmented molecules. Consequently, the teeth appear whiter.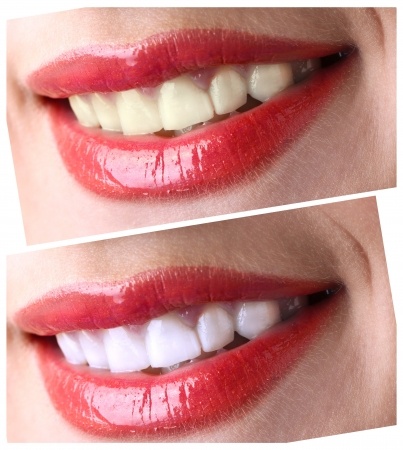 An effective and safe way to achieve tooth whitening is in-office monitored whitening without a light source. In-office whitening systems that use a light source may desiccate the enamel of your teeth. The whitening is done in just one visit in the office in about one hour. To keep your teeth nice and bright after in-office whitening, custom whitening trays are given for at home maintenance whitening to be done once or twice a year. Take home whitening trays can also be used on their own with prescription whitening gels without the in office whitening treatment.
Since teeth whitening only works on natural enamel, it is important to consider the replacement of old fillings and crowns in the front teeth after whitening. Touch-up maintenance whitening will be needed to keeping the teeth nice and bright. Only one to two applications of home whitening every six months is all you need to keep your teeth white.
Reasons for teeth whitening:
Stained teeth due to medications (tetracycline, etc.)
Yellow, brown stained teeth
Fluorosis (excessive fluoridation during tooth development)